Technologies for massive parallel sequencing
🧬
Daniel Fürth
Assistant professor
SciLifeLab/Uppsala University

🔗 furthlab.xyz
@furthlab
Technologies for massive parallel sequencing

📚🙇🏽‍♀️🙇🏻‍♂️📖 Lärandemål
Kurplan: 🔗3MG010
Innehåll:
Kromosomstruktur, normal och avvikande kromosomuppsättning.
Monogen och multifaktoriell nedärvning.
Metoder för gen-identifiering vid enkla och komplexa egenskaper.
Populationsgenetik, riskberäkning i familjer.
Diagnostik inom klinisk genetik, screening av nyfödda samt bärare.
Det humana genomets sammansättning och genetisk variation.
Genomevolution, genetiska modellorganismer och komparativ genomik.
🧬 Metoder att analysera hela genoms struktur och funktion, storskalig analys av DNA-sekvens och epigenetisk variation, samt mätning av transkriptions- och proteinnivåer.
Metoder för att koppla en gen till en sjukdom.
Mekanismer för reglering av geners uttryck.
Användandet av genetiska markörer inom forensisk medicin. Etiska principer, processer och deklarationer.
Farmakogenetik och cancergenetik.
📚🙇🏽‍♀️🙇🏻‍♂️📖 Lärandemål
Saker som vi ska gå igenom idag:
📜 Historiskt perspektiv:

från Sanger-sekvensering till Next-Generation Sequencing (NGS)
🔴🟢🟣🔵 Sanger-sekvensering genom kapillärelektrofores

NGS solid-phase substrate:

🪨 Emulsion PCR
🪨 Bridge amplification

NGS primer extension:

🧪 Sequencing by Synthesis (SBS)
🧪 Pyrosequencing
🧪 Reversible-dye terminators (Illumina)
🧪 Sequencing by Ligation (SBL)


🧬 Long read sequencing
📜 Sanger sequencing ➡️ Next-Generation Sequencing (NGS)
Separation chemistry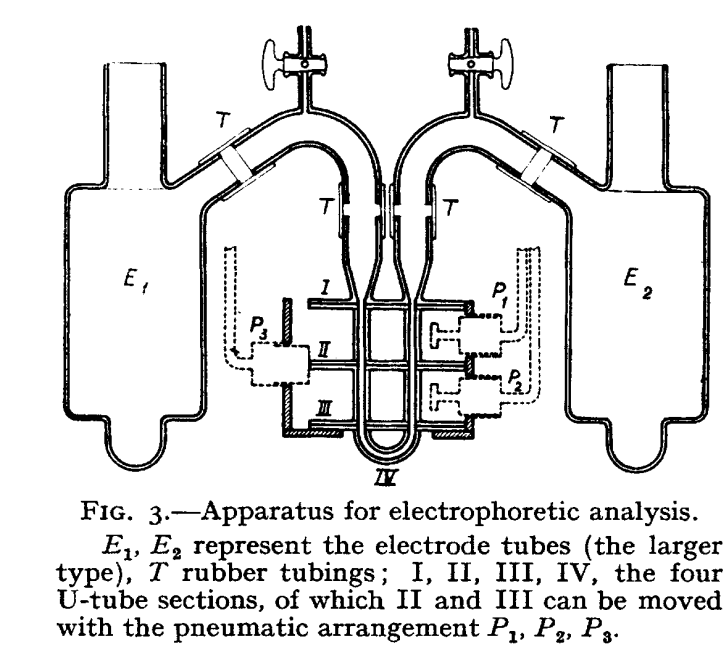 Separation chemistry
Polyacrylamide gel electrophoresis (PAGE)
Length
Charge
Confirmation
Molecules can be run in their "native state"
preserving higher-order structure.
Or a chemical denaturant can be added to
remove structure (urea for 🧬).
Native vs non-native PAGE.
Pore size controled by % of acrylamide.
📏 Resolution:
100-1000 nt down to single-nucleotide.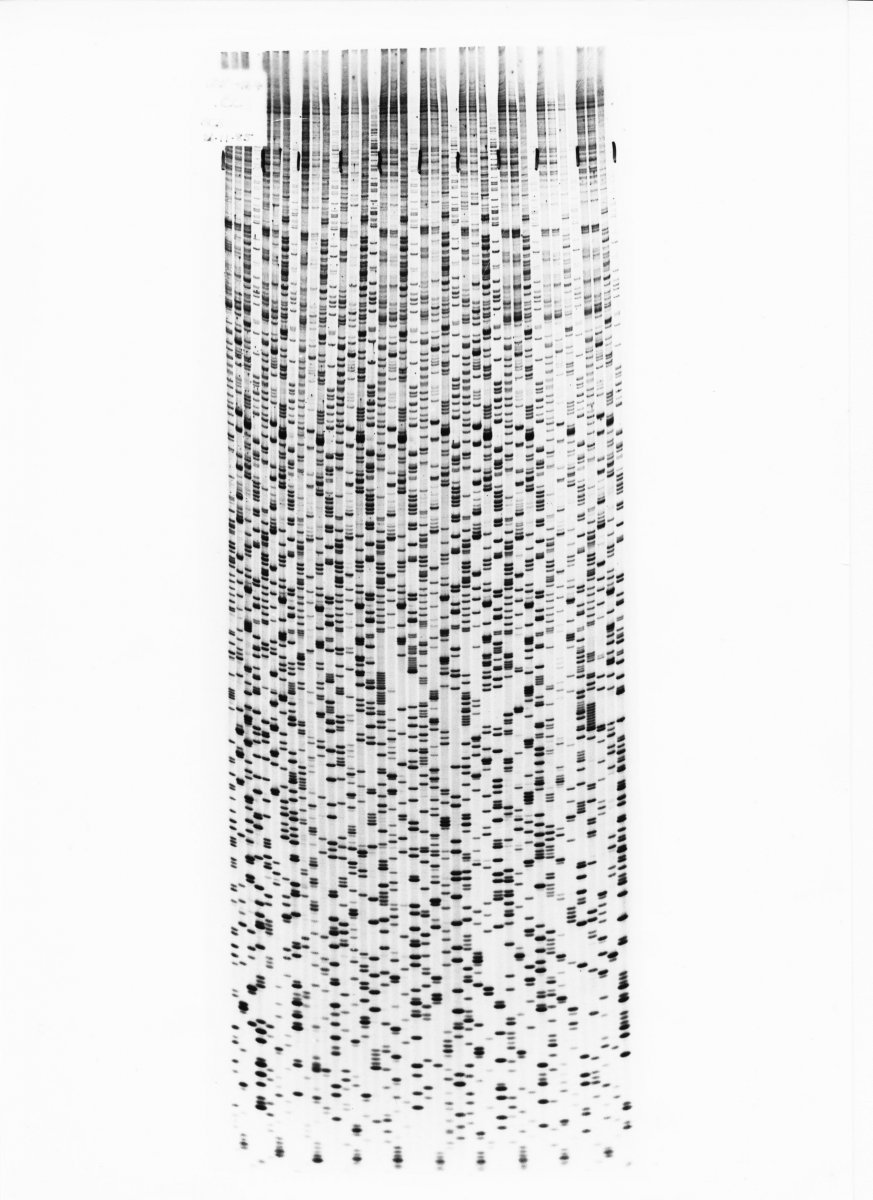 Fredrick Sanger
One of the few who received two Noble Prizes.

💉1958

"structure of proteins, especially that of insulin"

🧬1980

"determination of base sequences in nucleic acids"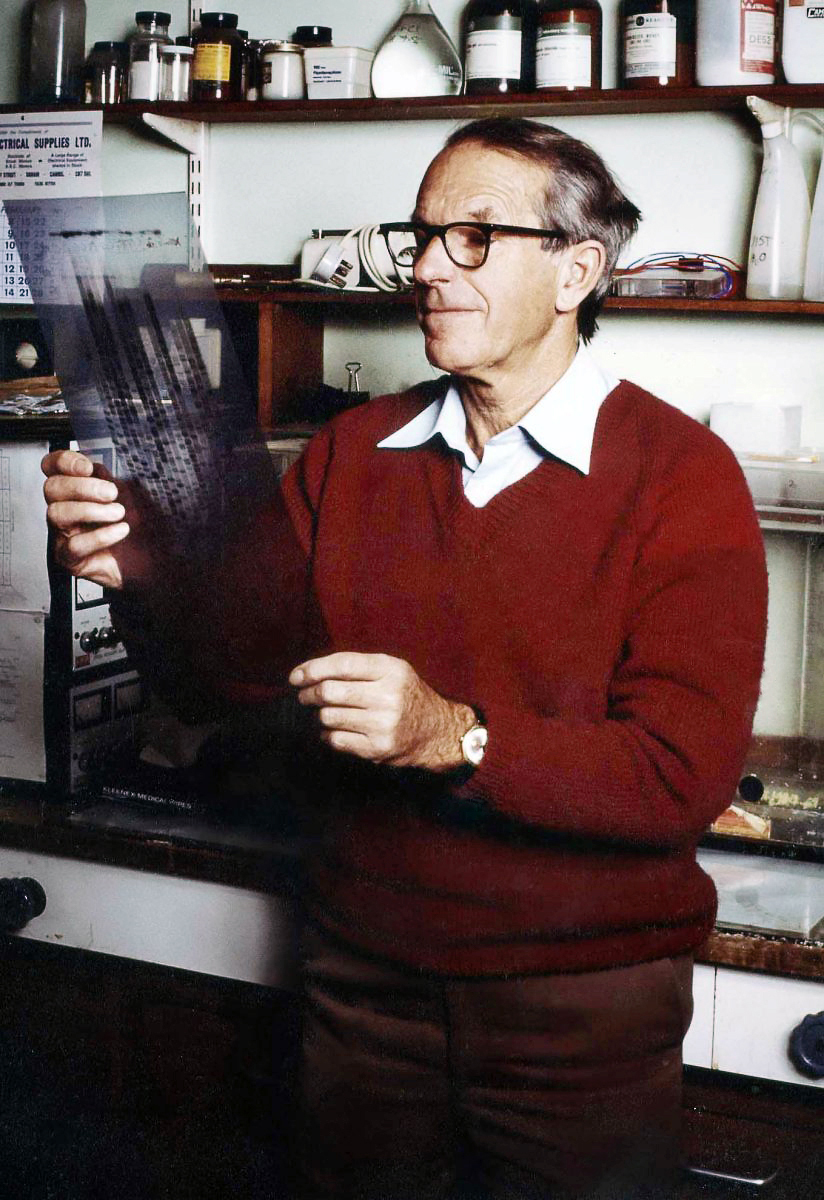 🇬🇧 Medical Research Council
Laboratory of Molecular Biology
Structure of a Ribonucleic Acid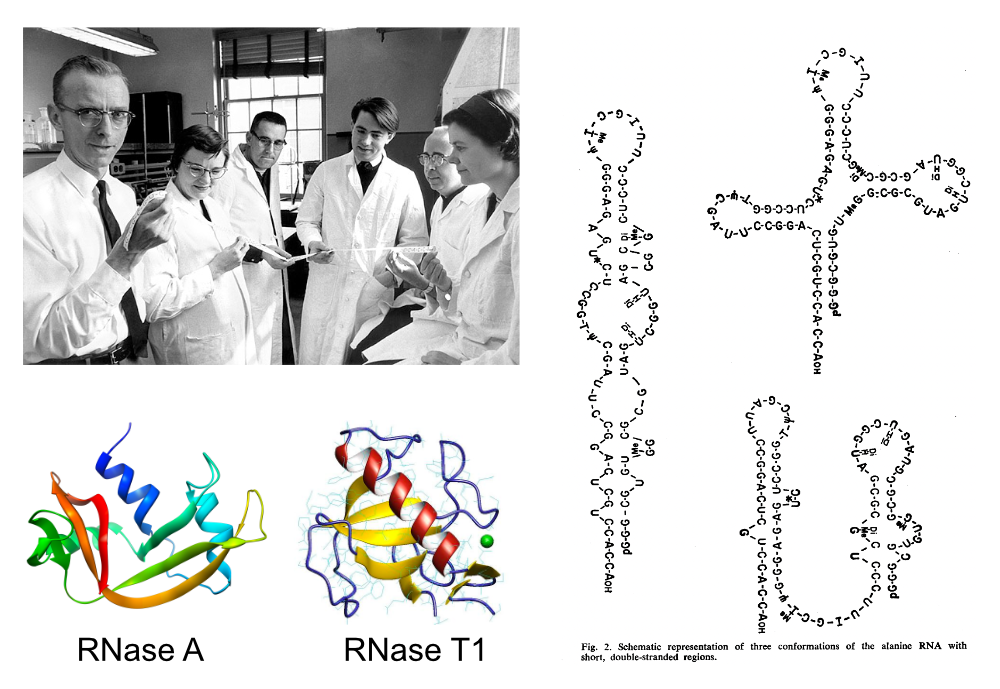 Nuclease Protection Assay (NPA)
A proto sequencing method.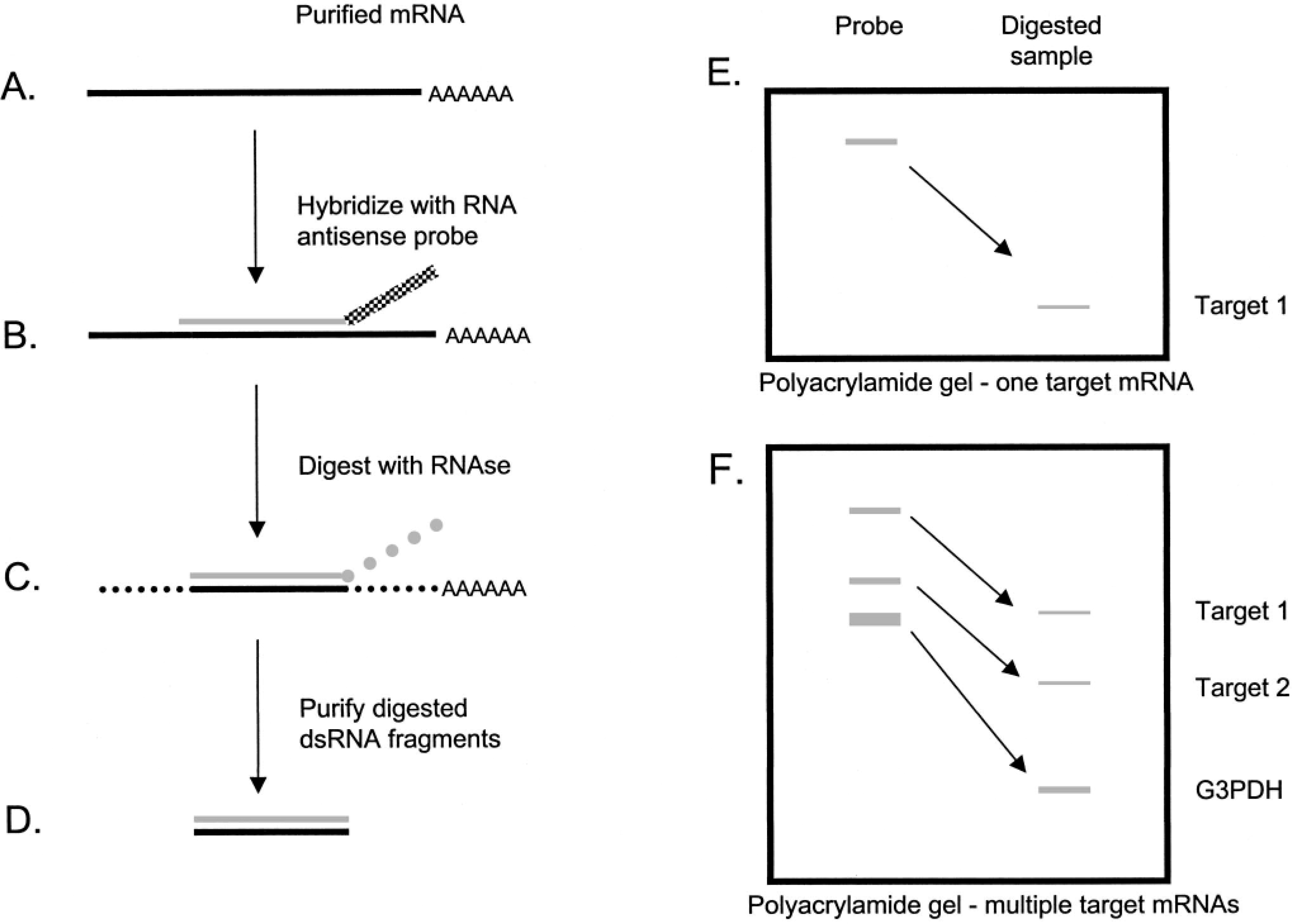 Two-dimension partition sequencing
A proto sequencing method.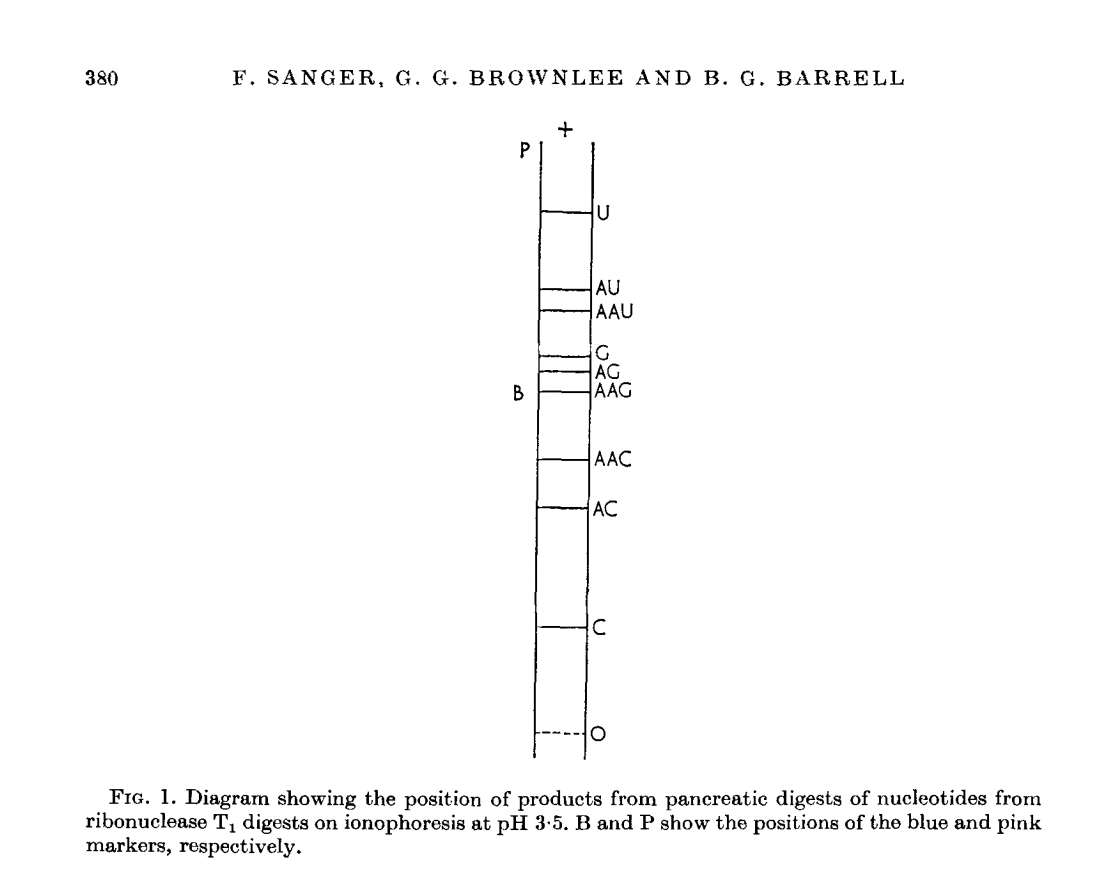 Two-dimension partition sequencing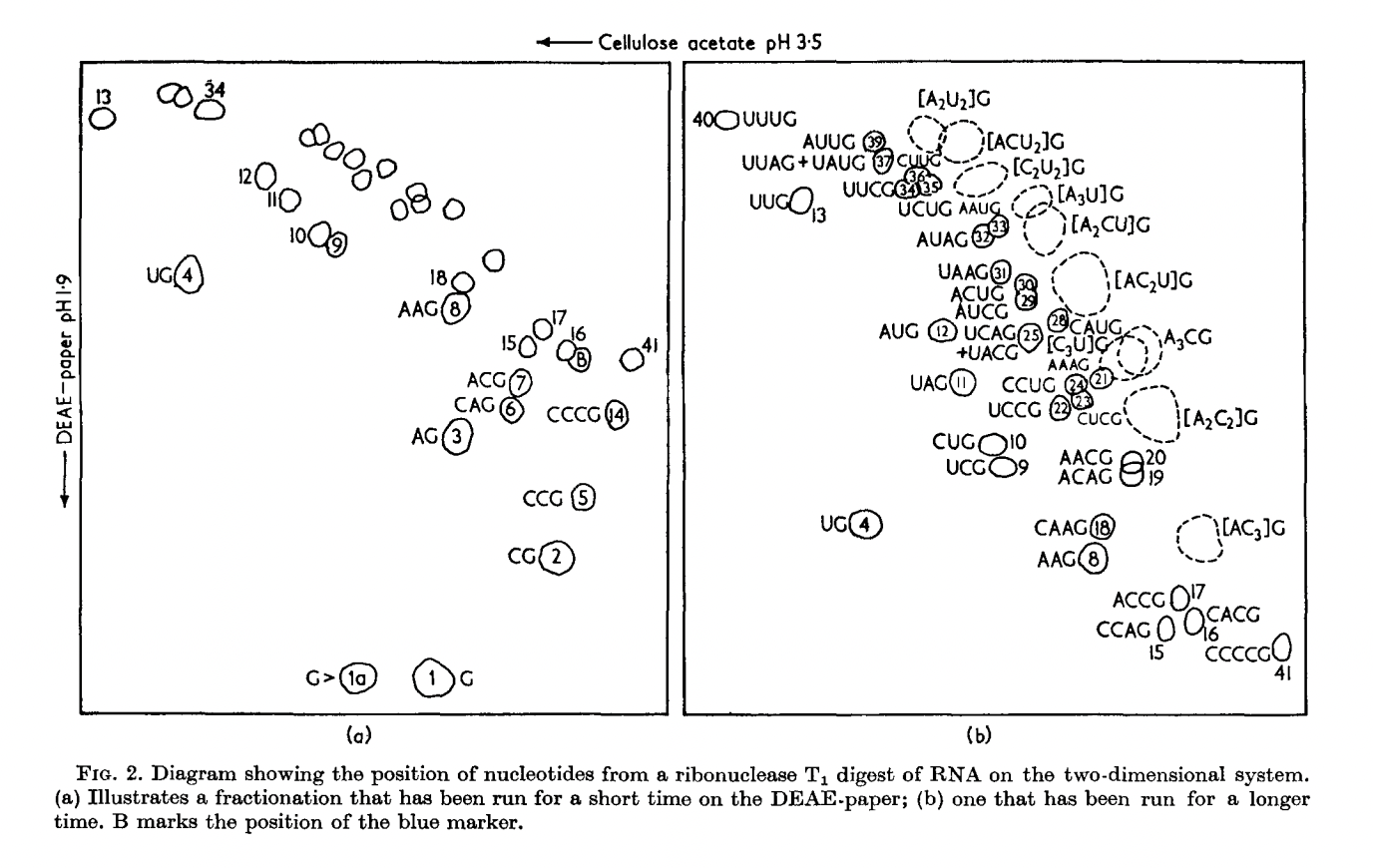 Two-dimension partition sequencing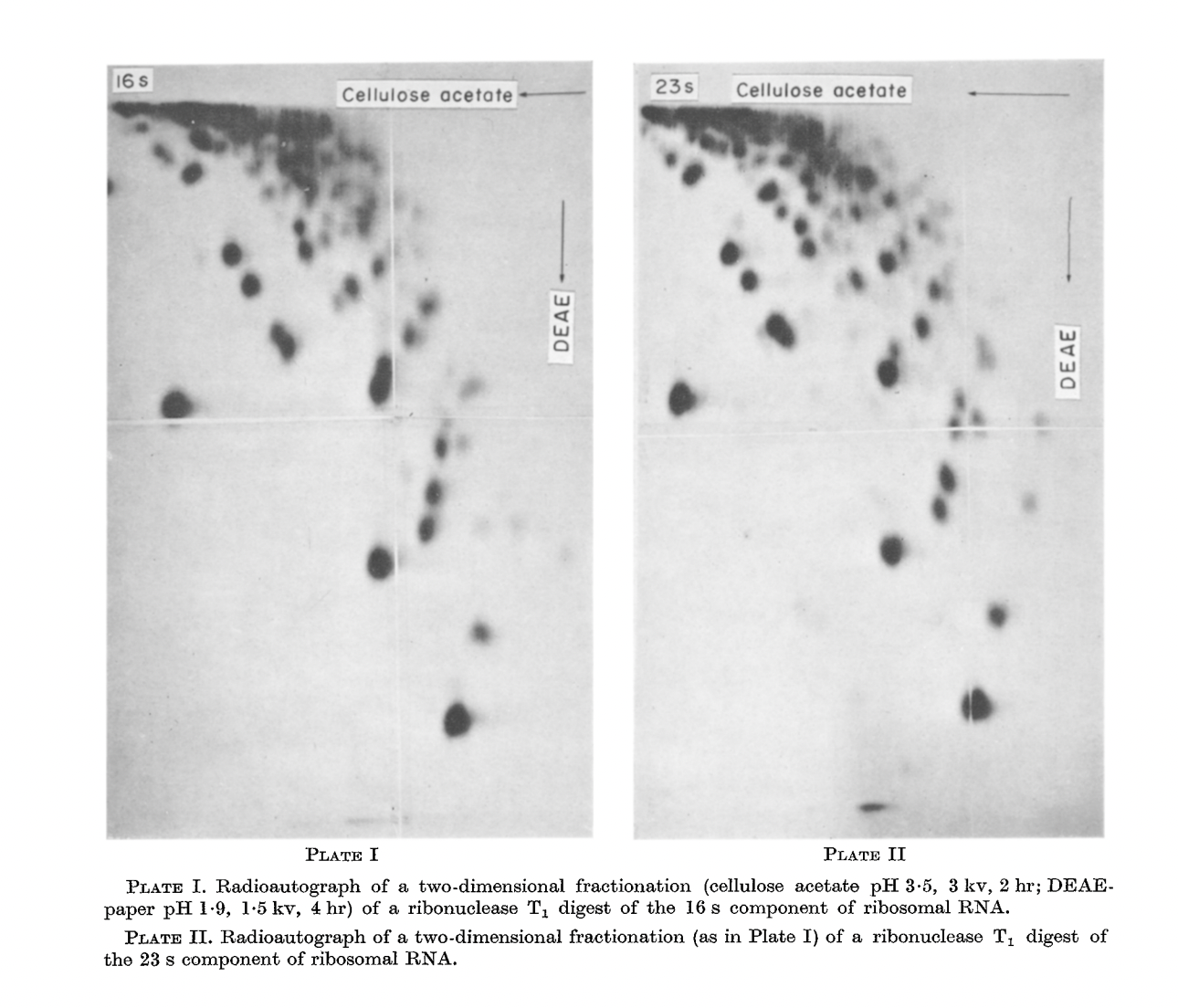 dNTP incorporation has base specificity

The birth of the "-"-approach of Sanger.
First sequence of a single gene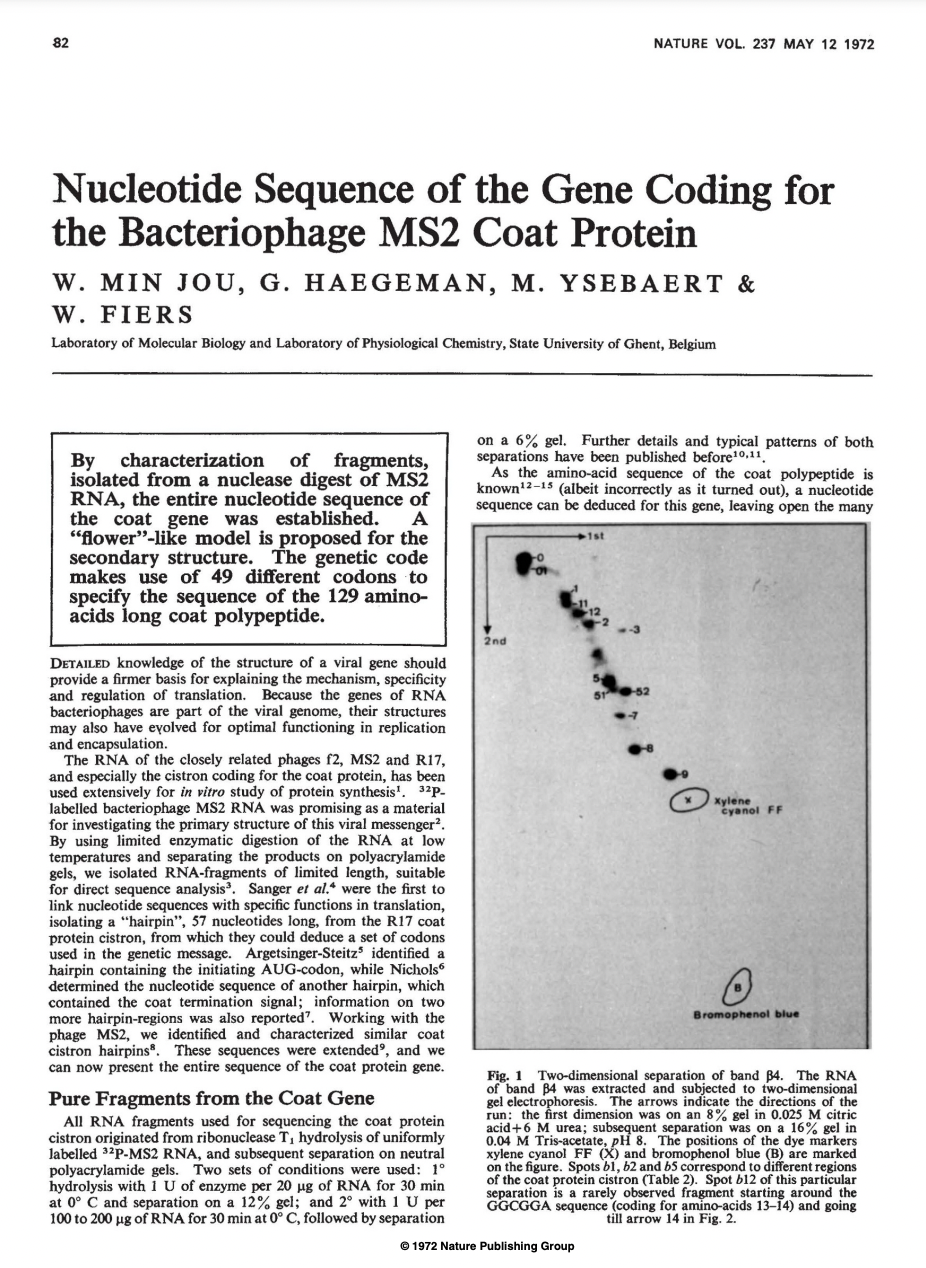 Bacteriophage MS2
Circular ssDNA genome.
Sanger's Plus/Minus sequencing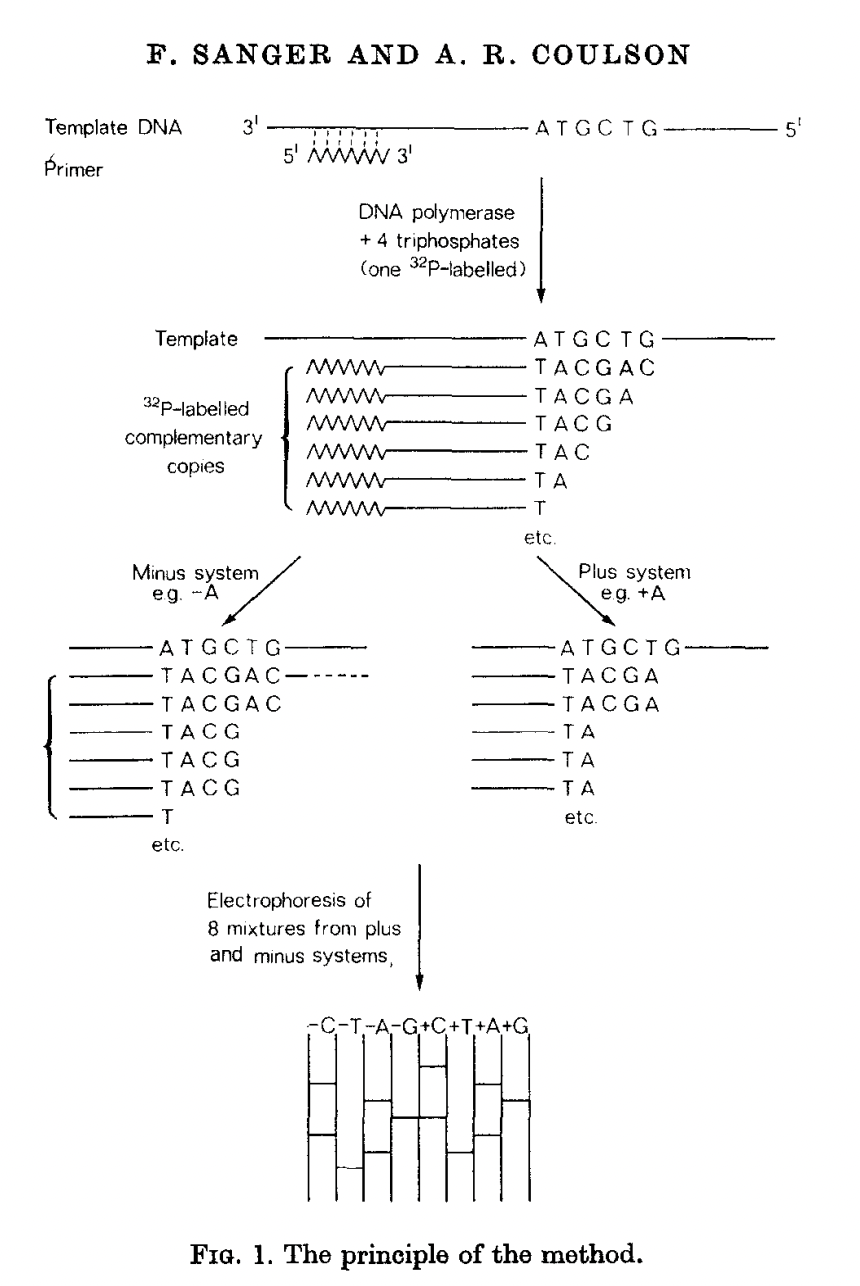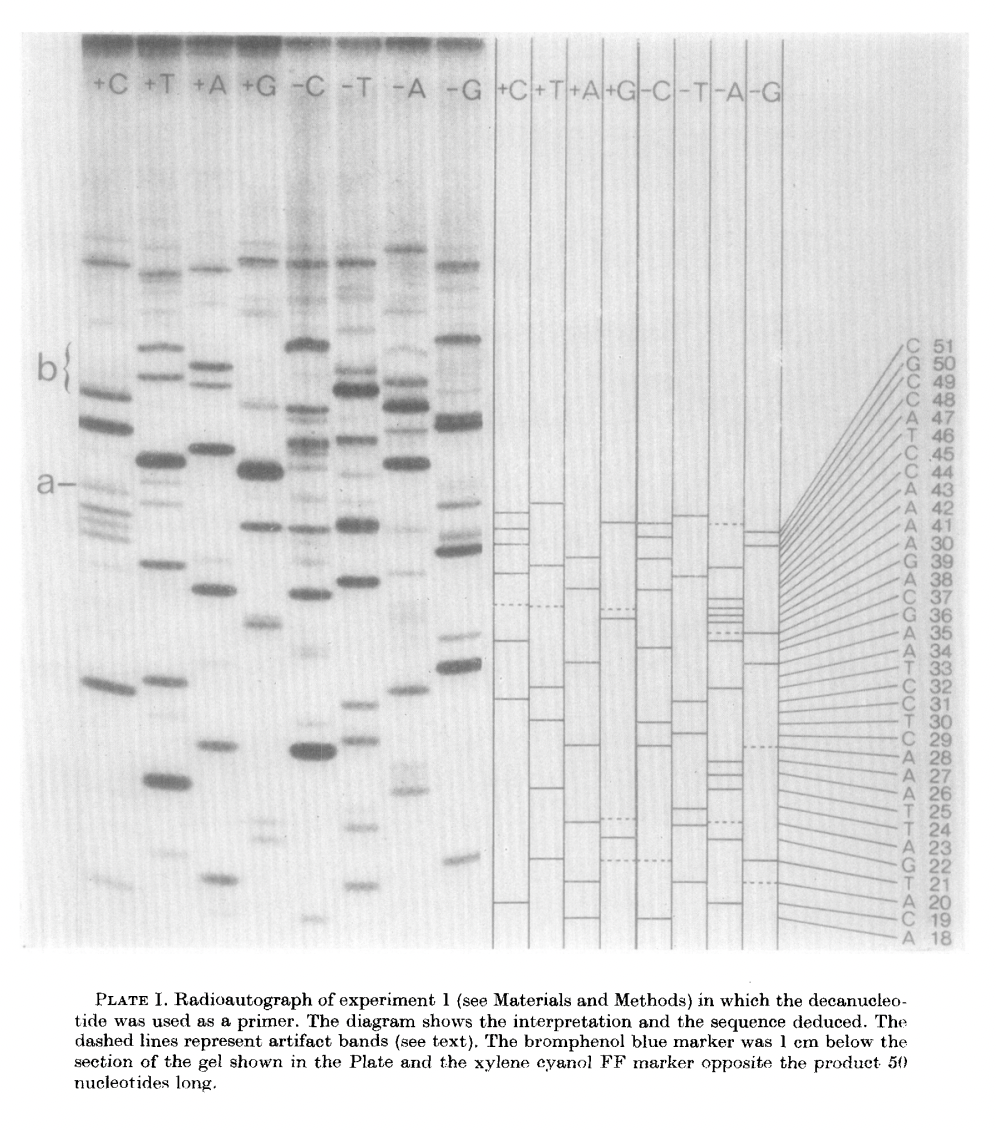 Dideoxynucleotides (ddNTP) are incorporated
Polymerases can incorporate ddNTPs.
Leading to a single base extension followed by termination
No 3'hydroxyl group (3'OH).
🏆 Chain-termination method 🏅
"Sanger sequencing"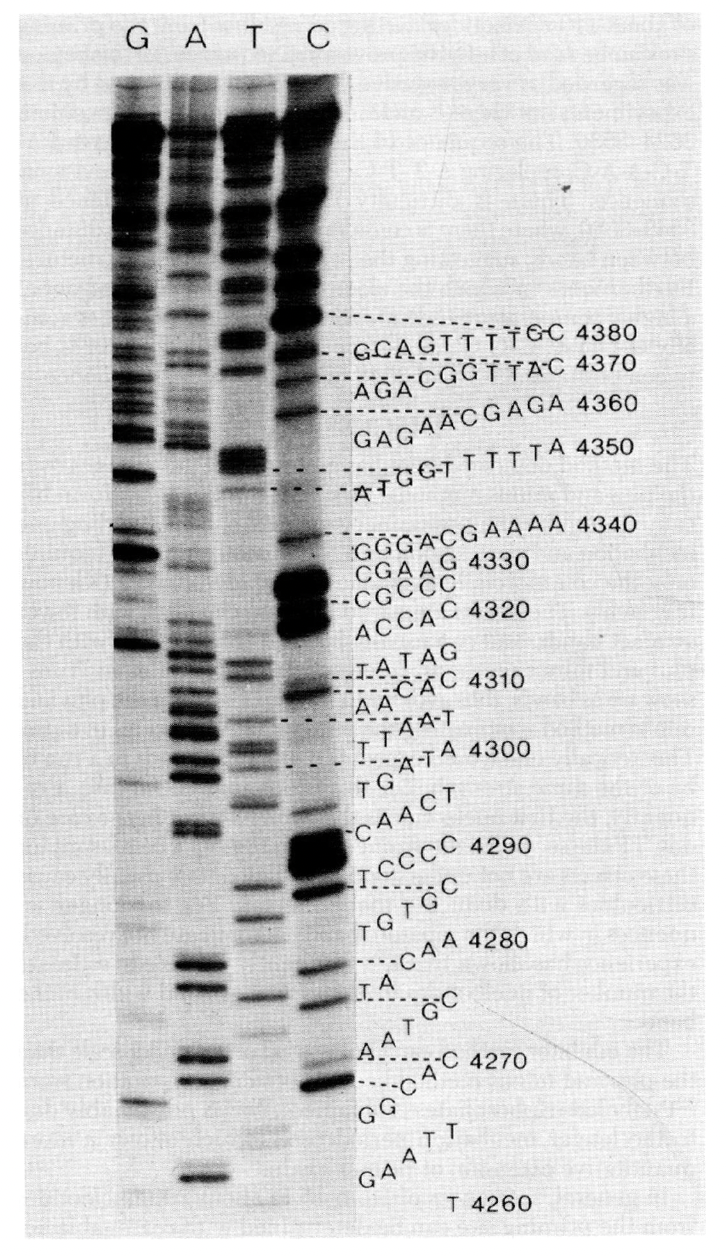 Sanger sequencing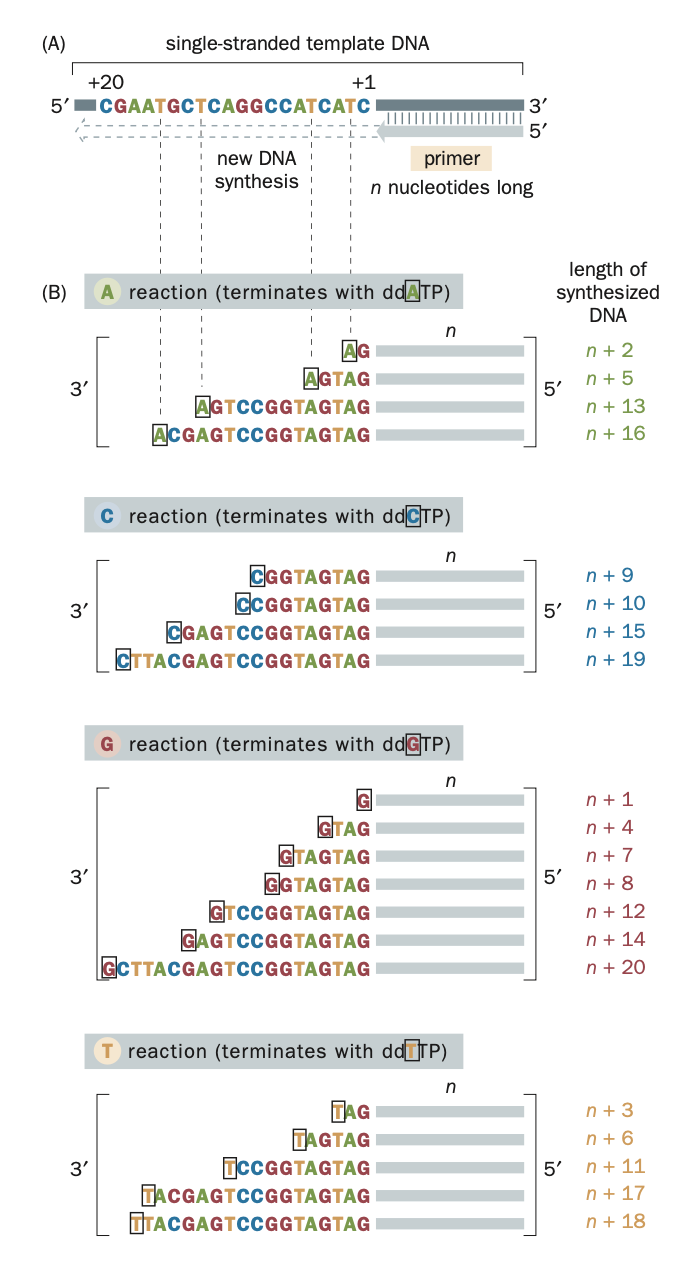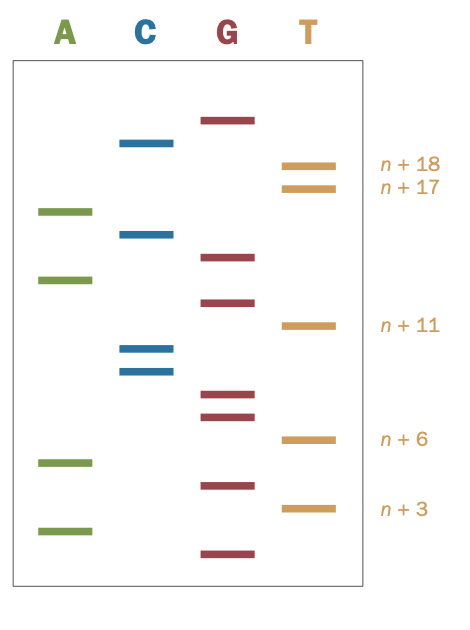 Capillary gel electrophoresis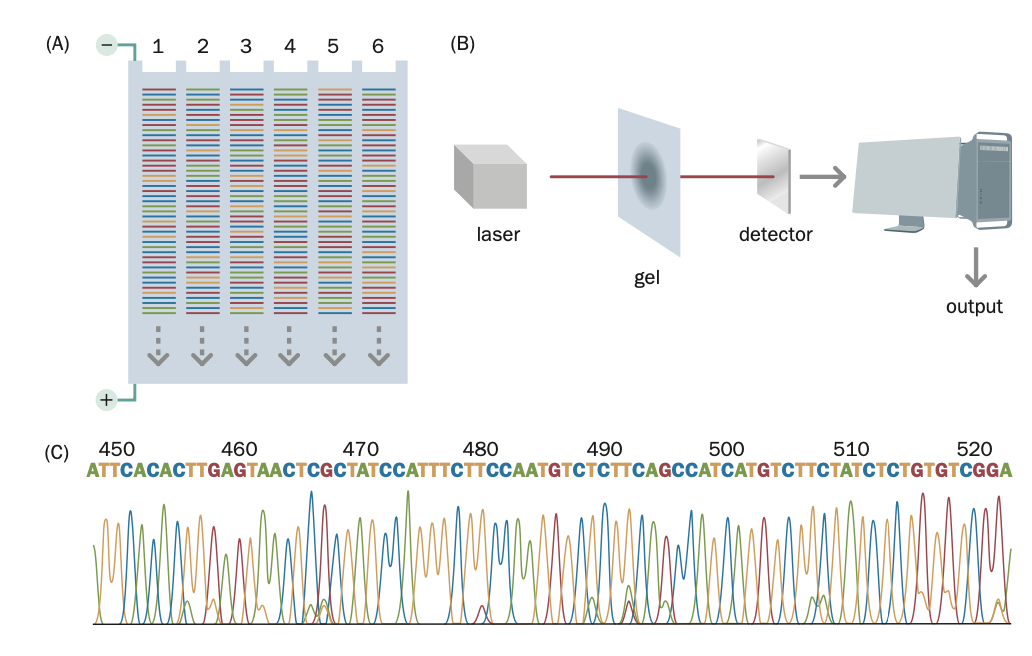 Maxam & Gilbert sequencing
Radioactive 5'labeling

Chemical cleavage

PAGE
The birth of biotech
California. Genentech and recombinant technologies were already creating value. Flow cytometer and Beckman Coulter commercial machines.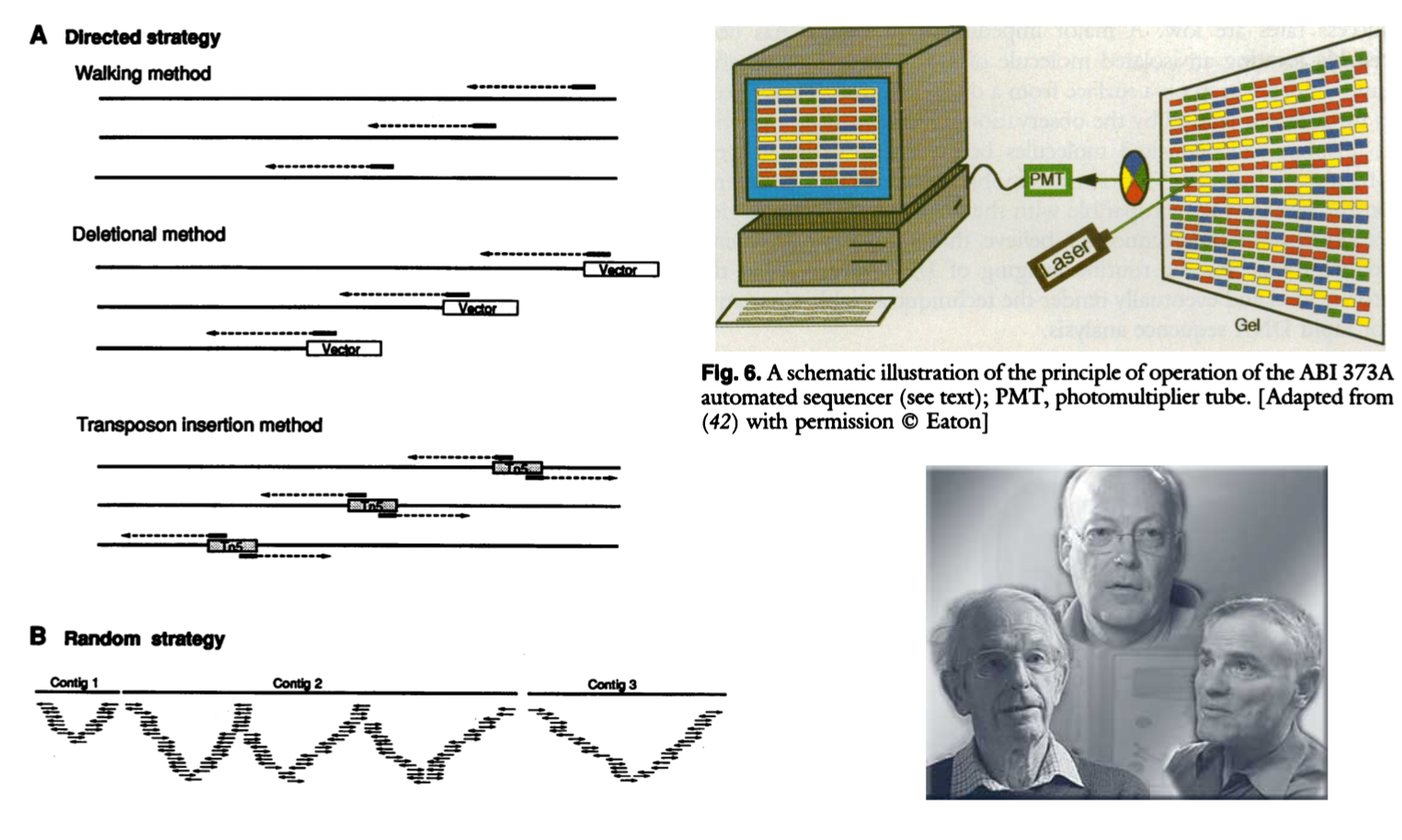 ⛰ Cal. Tech. 👥 Leroy Hood and Mike Hunkapiller 🏢 Applied Bioscience Inc. (ABI)
Technological landscape
Read length
Throughput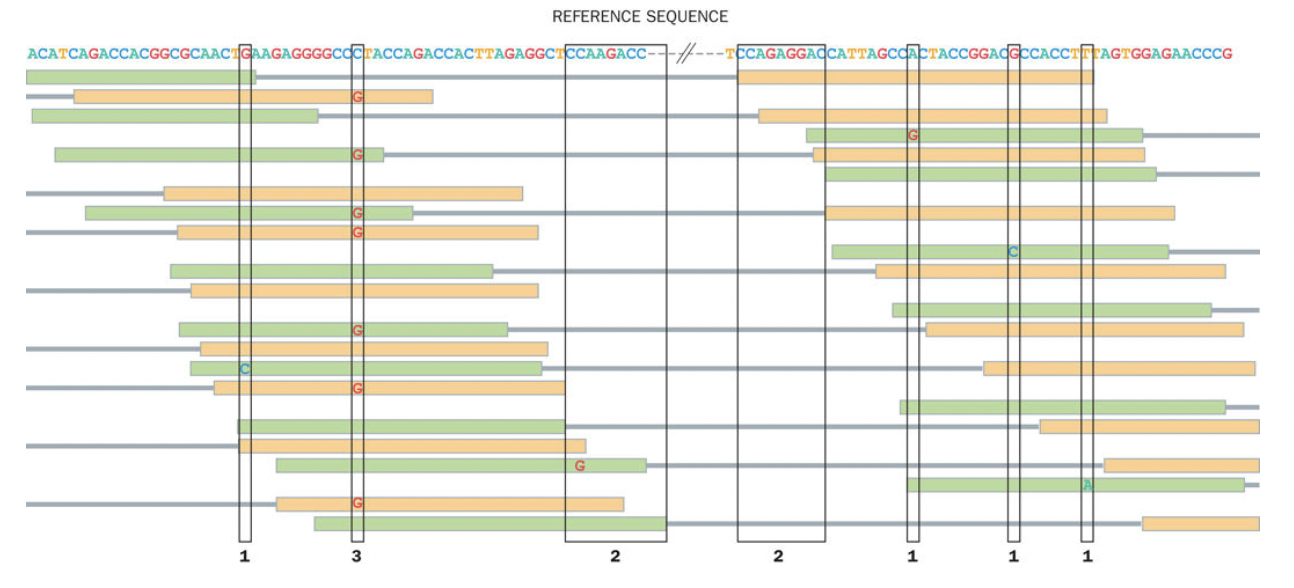 Alignment
Next-generation sequencing
All about how to massively multiplex sequencing.
Solid-phase substrate
Bridge amplification

Emulsion PCR

DNA nanoballs
Primer extension
Sequencing by synthesis
(SBS)

Sequencing by ligation
(SBL)
Pyrosequencing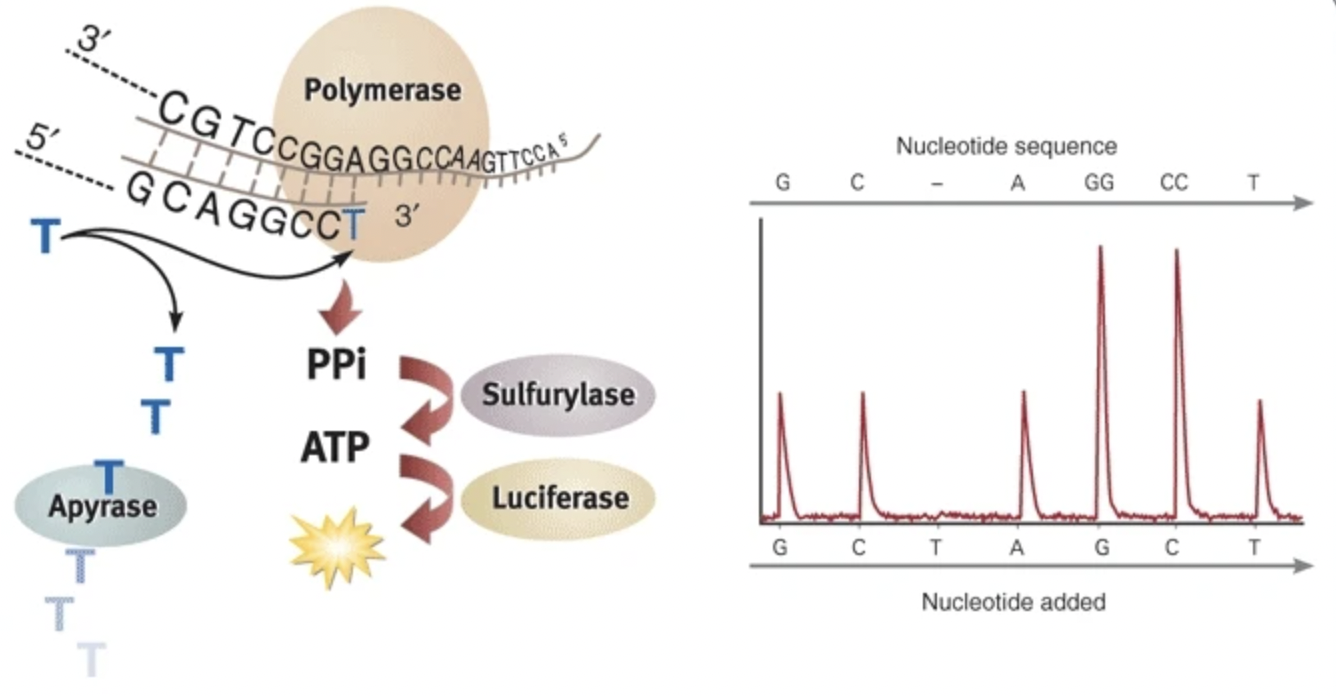 Emulsion PCR/Polony sequencing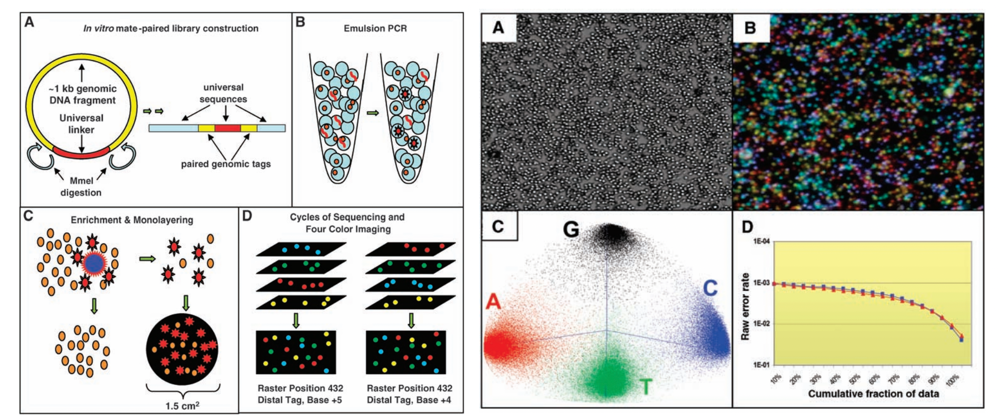 Emulsion PCR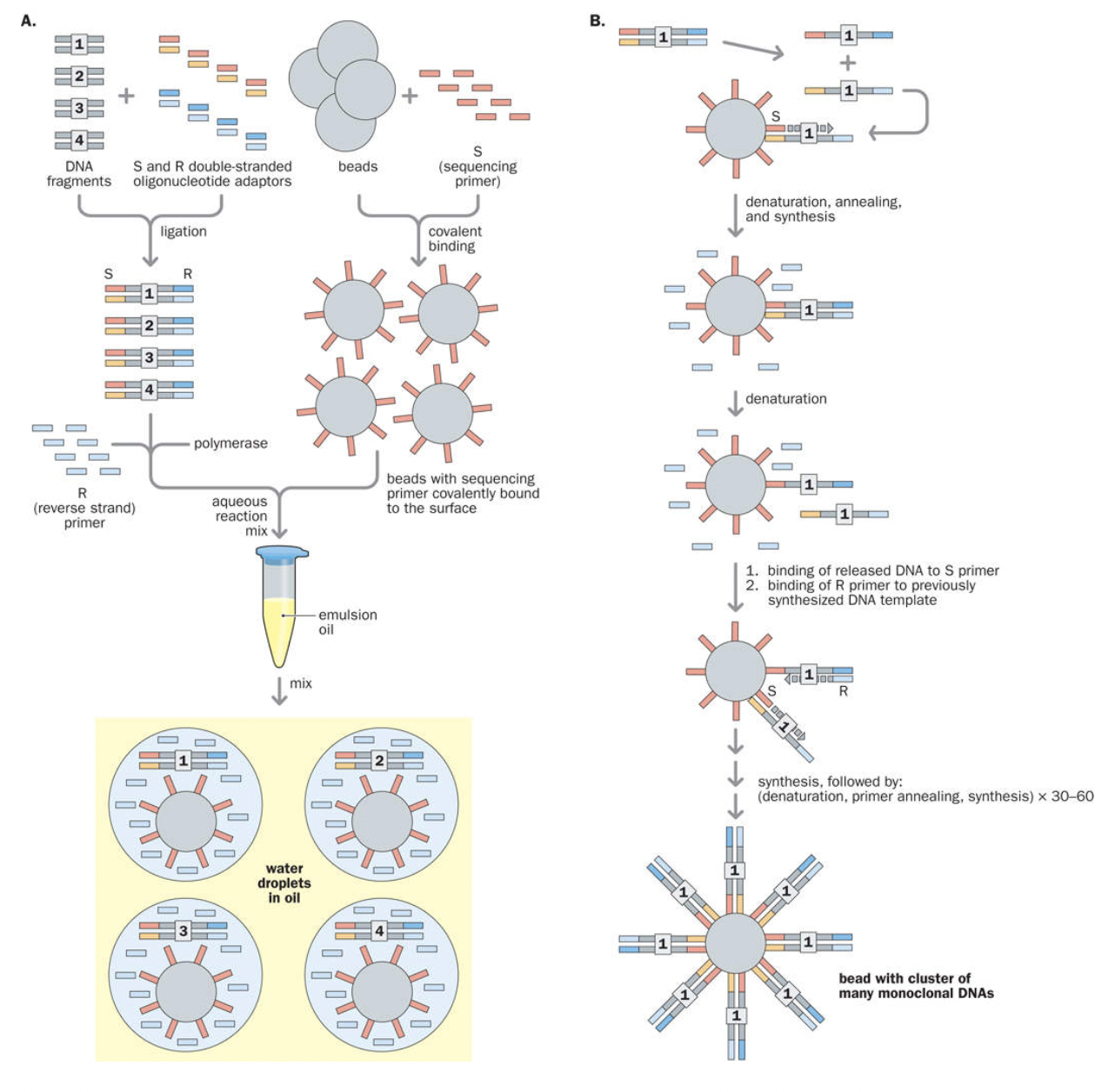 Solexa/Illumina sequencing
Solid support: PCR bridge amplification
Primer extension: Reversible dye-terminators (patent 444 about to expire!)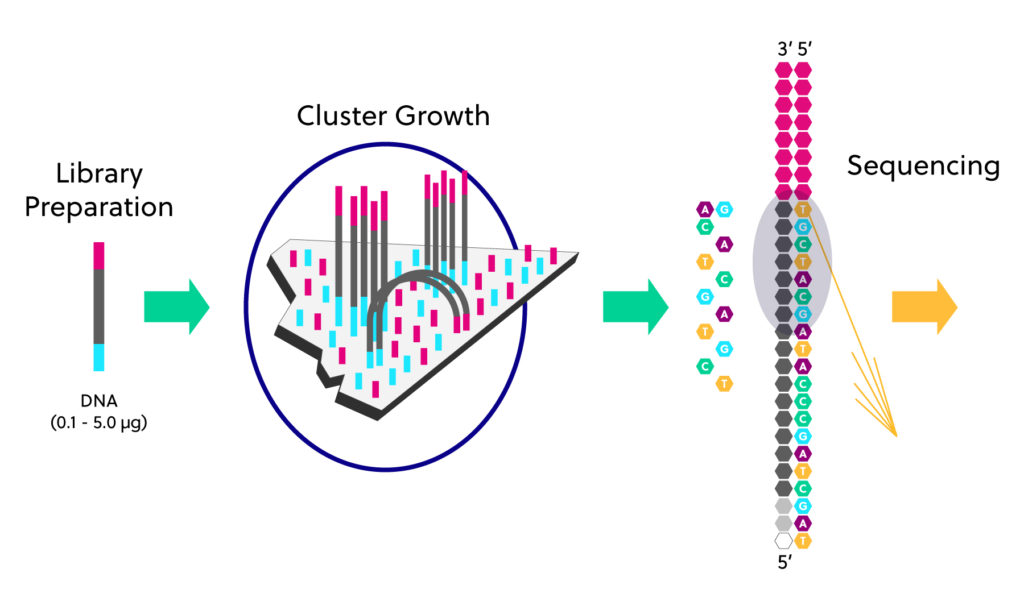 Solexa/Illumina sequencing
Solexa/Illumina sequencing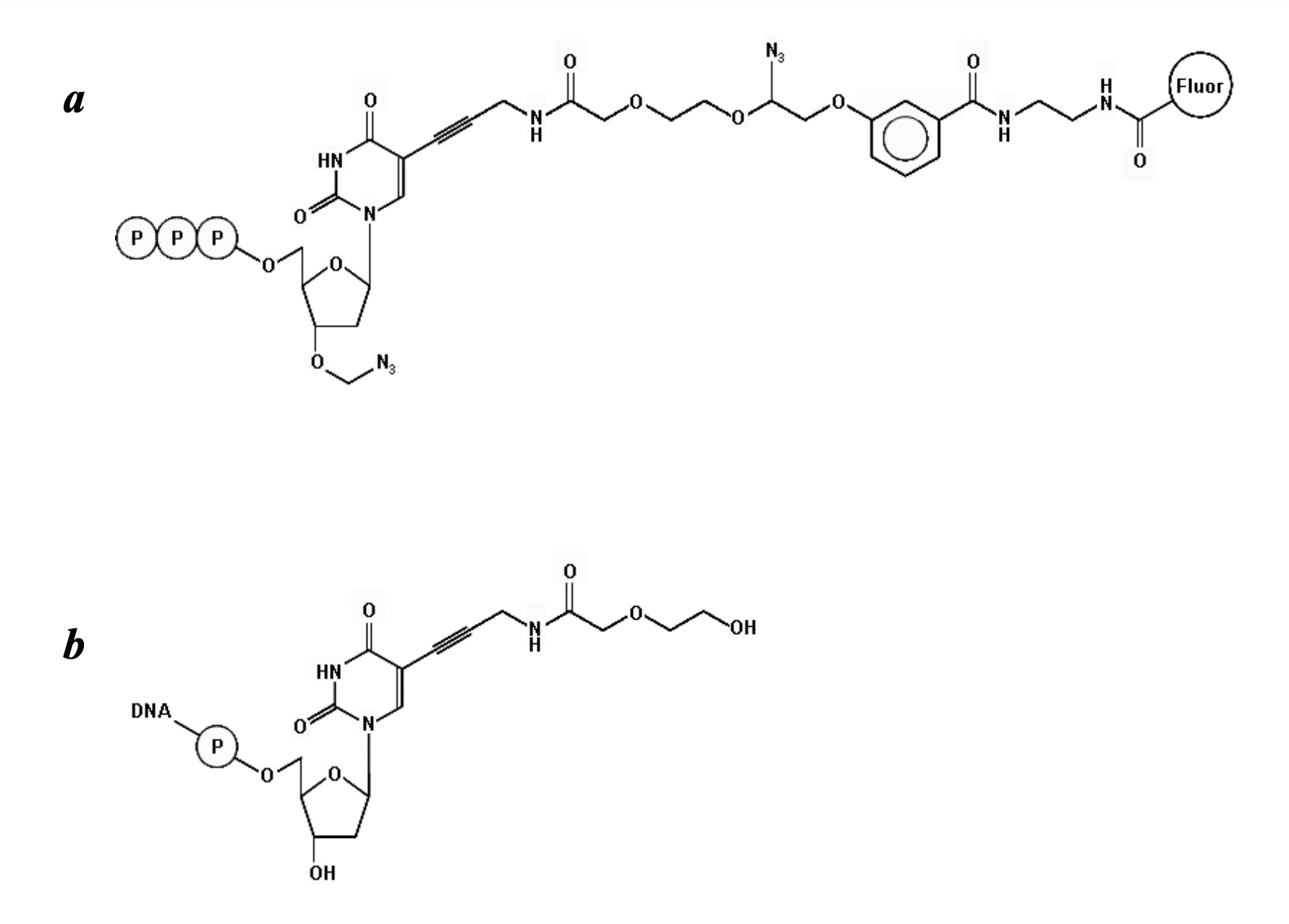 Solexa/Illumina sequencing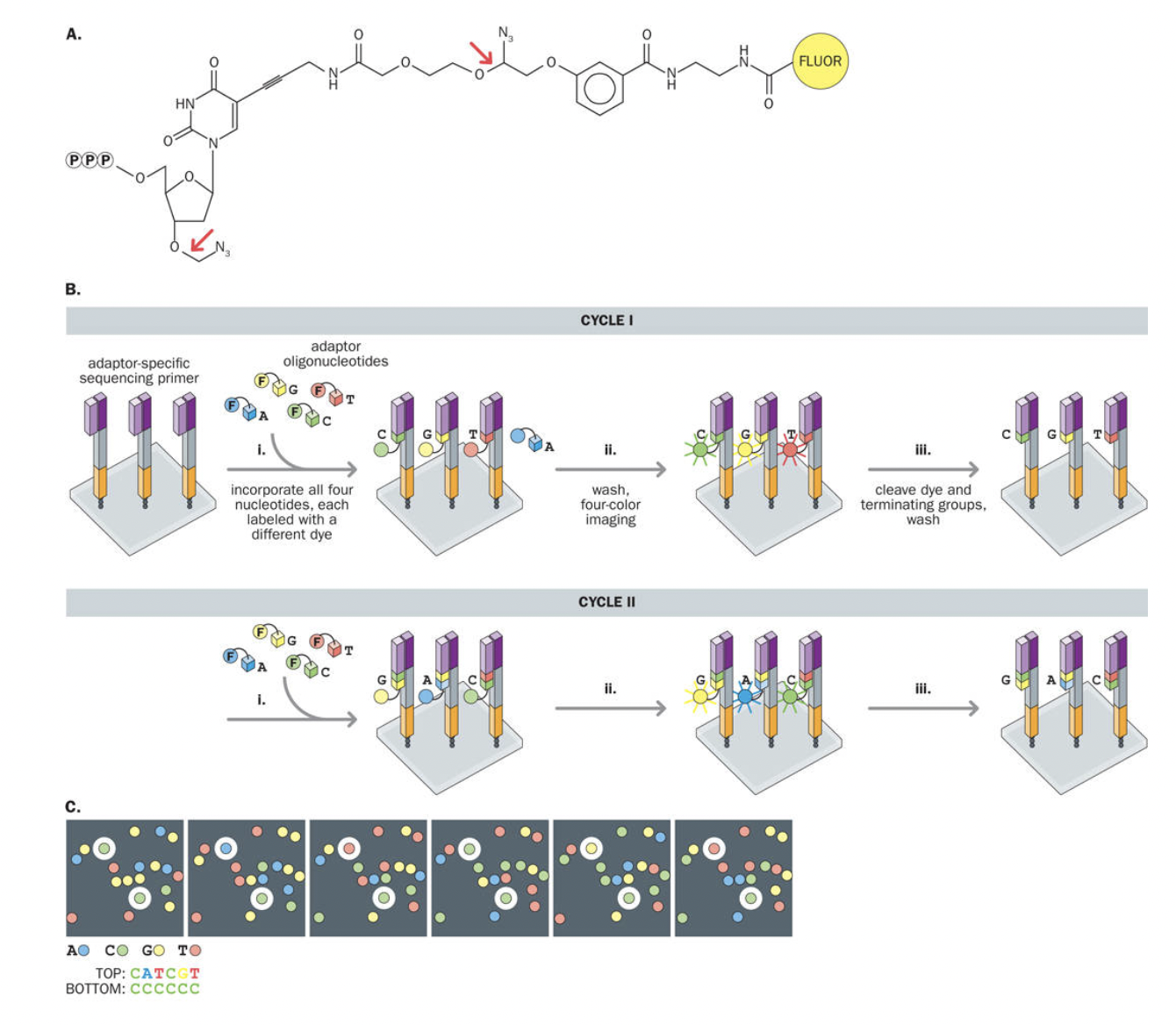 Sequencing by Ligation (SBL)
Democratization of sequencing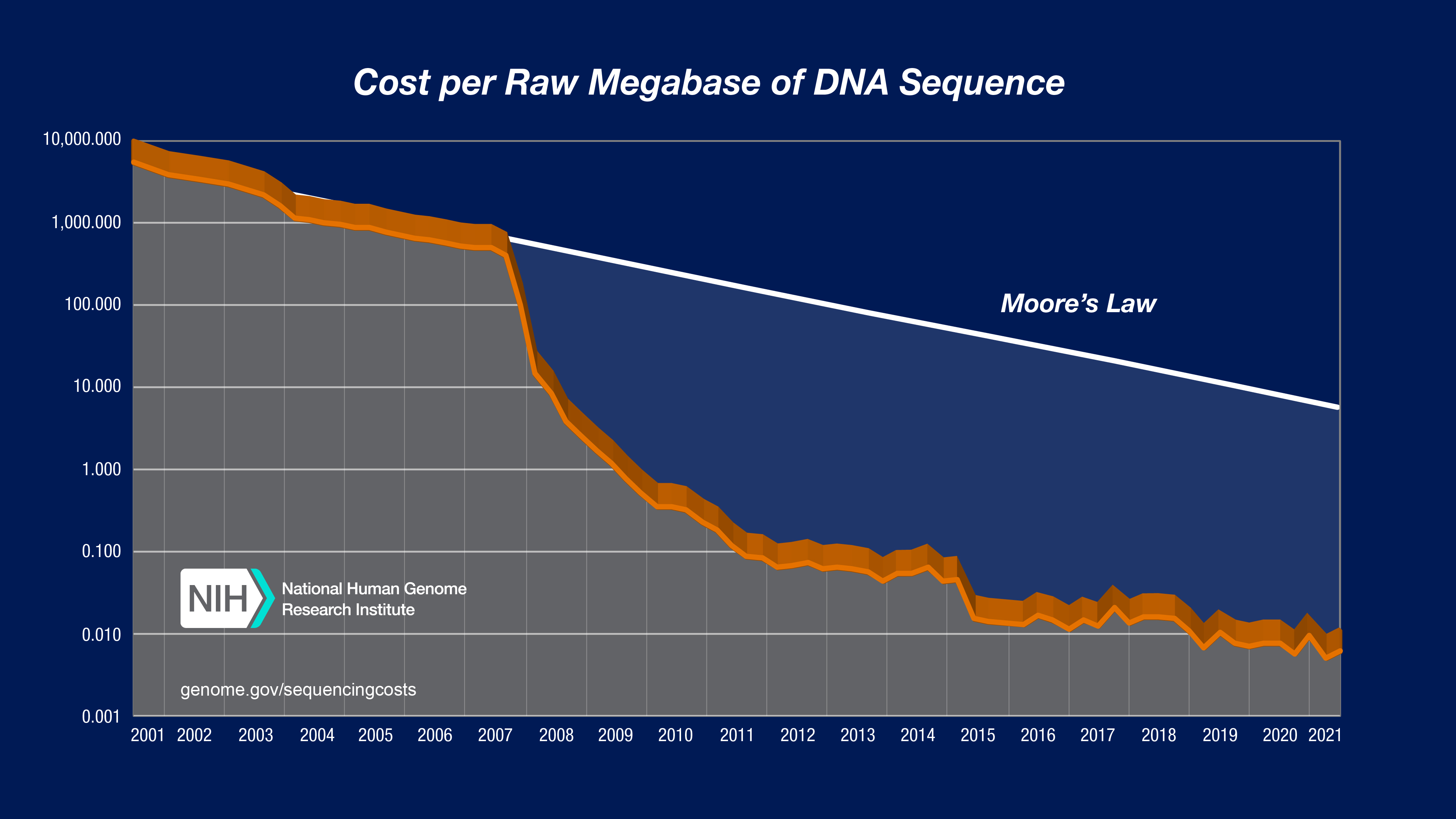 Paired-end and mate pair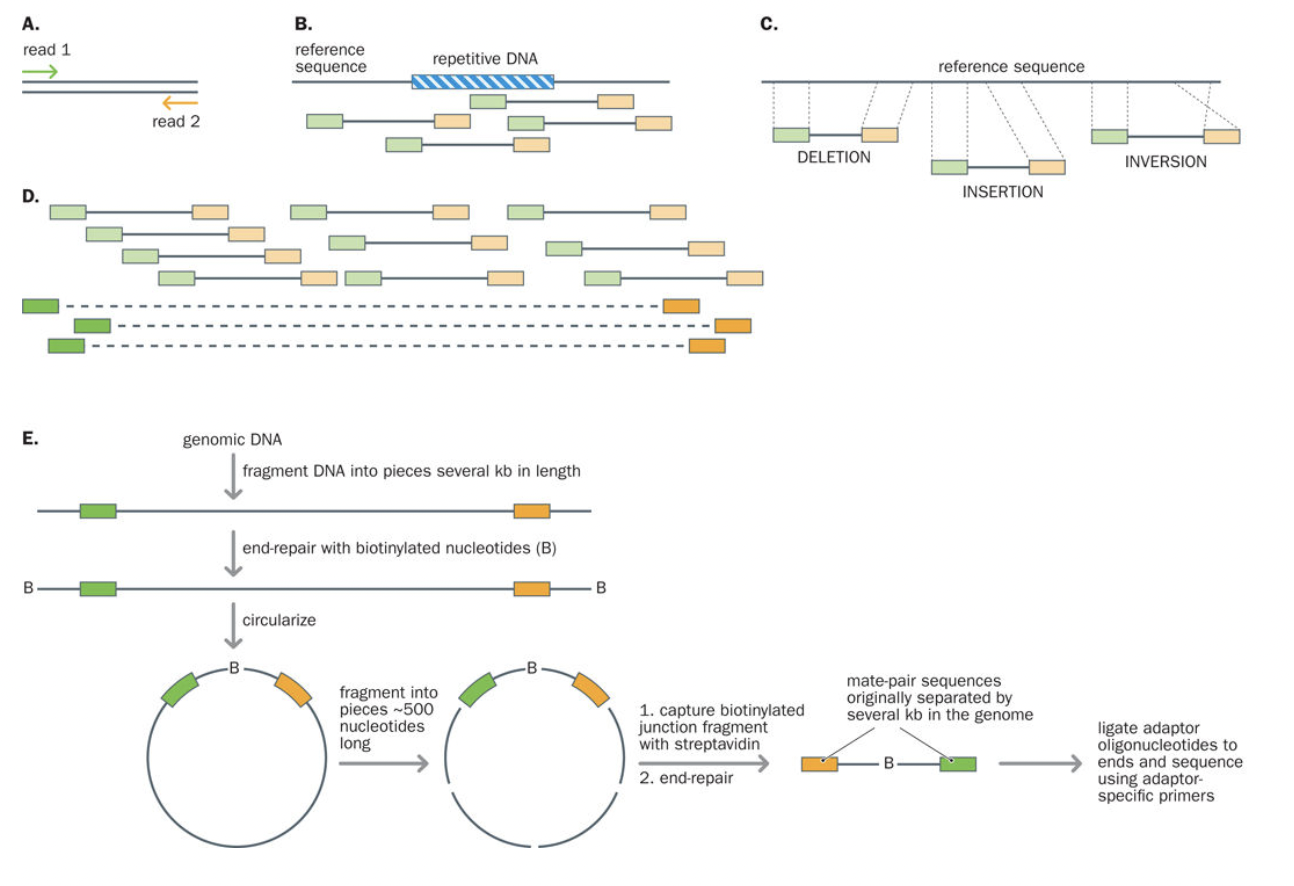 DNA library preparation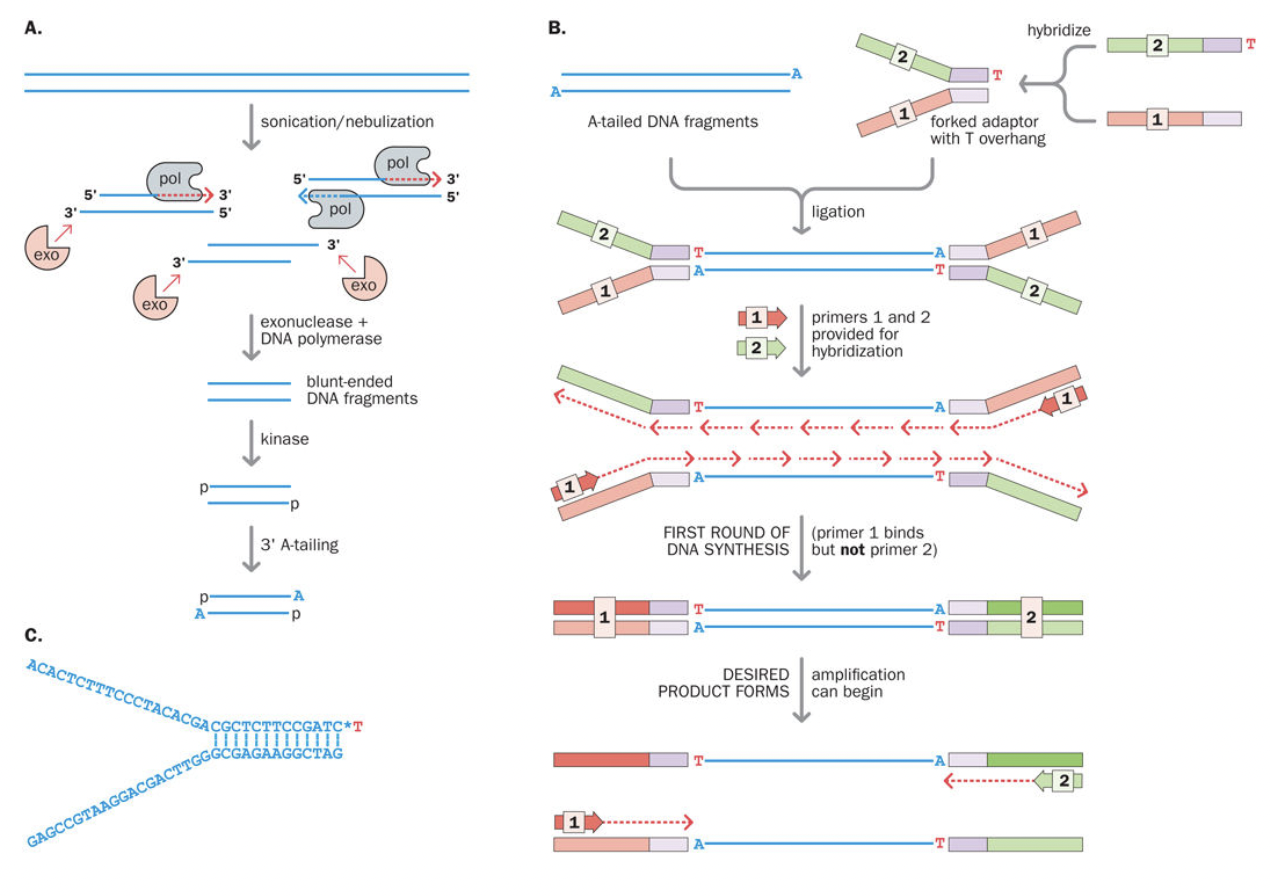 Single Molecule, Real-Time (SMRT) sequencing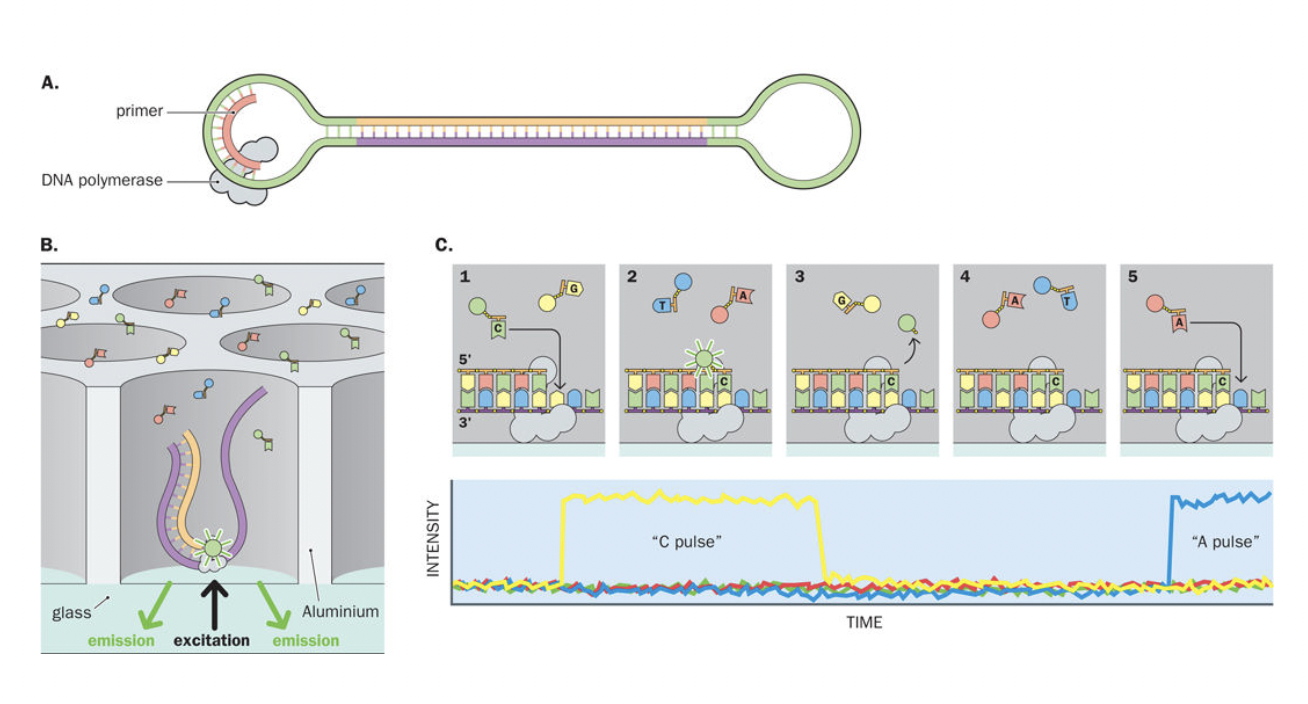 PacBio

SMRTbell Template Prep
Zero-Mode Waveguides
NanoPore sequencing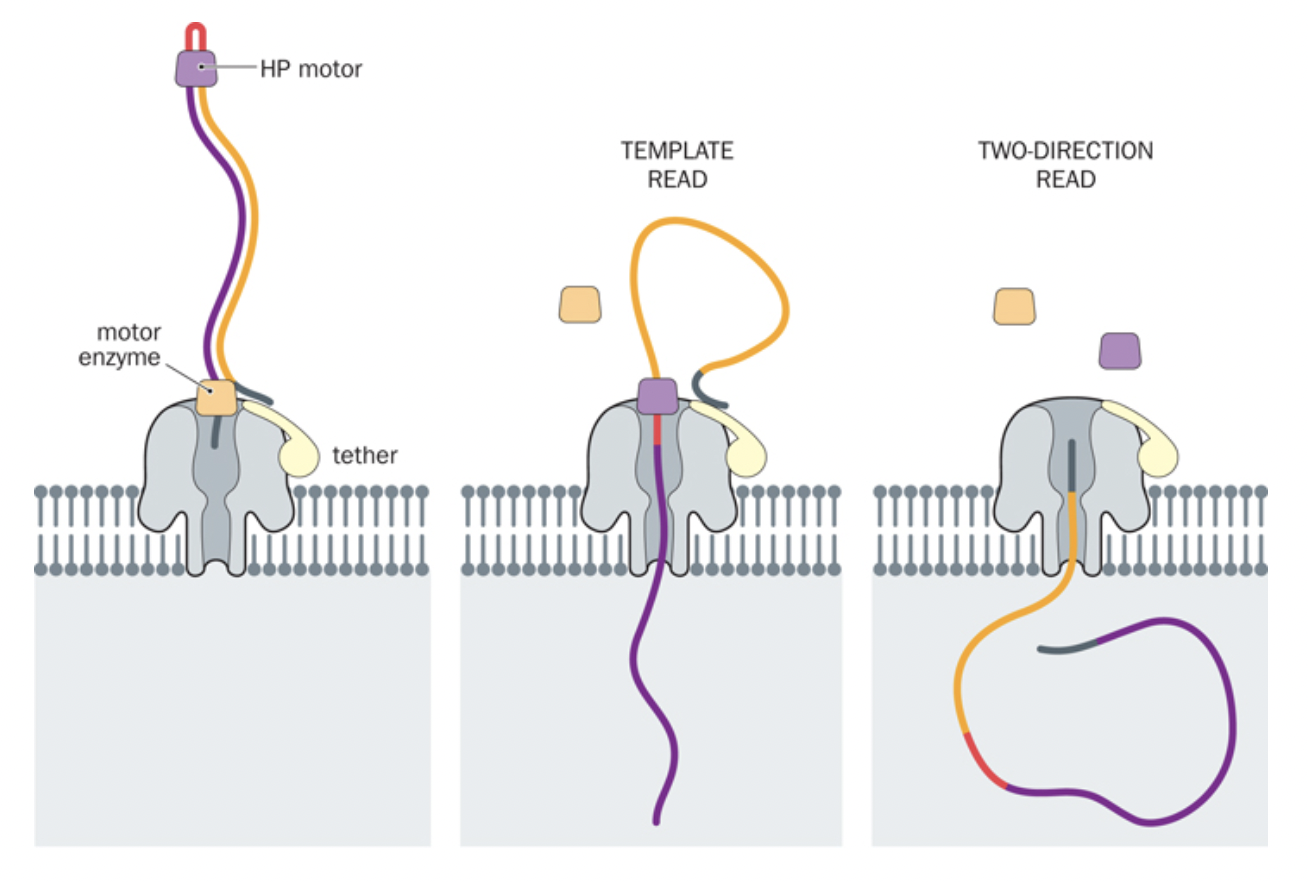 Unbiased in situ sequencing
In situ sequencing